Attention A T users. To access the menus on this page please perform the following steps. 1. Please switch auto forms mode to off. 2. Hit enter to expand a main menu option (Health, Benefits, etc). 3. To enter and activate the submenu links, hit the down arrow. You will now be able to tab or arrow up or down through the submenu options to access/activate the submenu links.

Seattle-Denver Center of Innovation (COIN)
COIN Investigators

COIN Investigators
Paul Hess, MD

Title: Associate Professor of Medicine at the University of Colorado School of Medicine
Contact: Paul.Hess@va.gov
Location: Denver
See Dr. Hess' Dimensions profile that includes: publications, grants, datasets, patents and clinical trials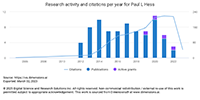 Dr. Hess is a cardiologist and health services researcher. His research interests center on the advancement of health care value across the spectrum of value-based outcomes, including improvement in the sustainability of health and health status and reduction of ineffective care. His research has been supported by the American Heart Association and VA HSR&D. He serves as a staff cardiologist at the Rocky Mountain Regional VA Medical Center and an Associate Professor of Medicine at the University of Colorado Anschutz Medical Campus. He received his MD from Emory University School of Medicine and his MHS from Duke University School of Medicine. He underwent residency training in internal medicine at Massachusetts General Hospital and fellowship training in cardiovascular medicine and cardiovascular imaging at Duke University Medical Center.
The following images visualize Dr. Hess' work. The word cloud is drawn from publication titles. The research collaboration map shows research relationships (click the image to enlarge):
The following research fields have been used to summarize Dr. Hess' publications and grants. The categories are based on 75 publications and 1 grant.

| Publications | Grants |
| --- | --- |
| Clinical Research | Health Services |
| Cardiovascular | Clinical Research |
| Heart Disease | Cardiovascular |
| Heart Disease - Coronary Heart Disease | Heart Disease |
| Patient Safety | Behavioral and Social Science |
| Clinical Trials and Supportive Activities | Patient Safety |
| Prevention | |
| Aging | |
| Atherosclerosis | |
| Biomedical Imaging | |
Grants & Funding
Impact of the Coronavirus Disease 2019 Pandemic on Cardiovascular HealthcareUtilization, Quality of Care, and Clinical Outcomes
Role: Co-PI with Stephen Waldo
Excess deaths have occurred during the coronavirus disease 2019 (COVID-19) pandemic, most commonly due to heart disease and particularly among vulnerable populations, raising the possibility of suboptimal healthcare utilization or quality of care.
Accordingly, we propose an observational, retrospective, national cohort study of Veterans with cardiovascular disease. We will compare potential decreases in cardiovascular healthcare utilization and quality of care and an increase in mortality to that which occurred before the pandemic, focusing on vulnerable populations. We will then assess whether the changes in healthcare utilization and quality of care were associated with an increased mortality risk.
A stakeholder advisory panel led by VA operational leaders, investigators, and Veterans will convene to develop recommendations and guide VA policies in the late- or post-pandemic period.
Funder: Veterans Affairs
NIH website
How Do High-Value Hospitals Succeed in Heart Failure Transitional Care? A Multi-Methods Proposal
Funder: American Heart Association (AHA)
Recent Publications
2023
Swat SA, Xu H, Allen LA, Greene SJ, DeVore AD, Matsouaka RA, Goyal P, Peterson PN, Hernandez AF, Krumholz HM, Yancy CW, Fonarow GC, Hess PL; American Heart Association's Get With the Guidelines–Heart Failure (GWTG-HF) Program. Opportunities and Achievement of Medication Initiation Among Inpatients With Heart Failure With Reduced Ejection Fraction. JACC Heart Fail. 2023 Jun 2:S2213-1779(23)00232-9. doi: 10.1016/j.jchf.2023.04.015. Epub ahead of print. PMID: 37318420
Learn more about this publication at Dimensions
2022
Sandhu A, Varosy PD, Du C, Aleong RG, Tumolo AZ, West JJ, Tzou WS, Curtis JP, Freeman JV, Friedman DJ, Hess PL. Device-Sizing and Associated Complications With Left Atrial Appendage Occlusion: Findings From the NCDR LAAO Registry. Circ Cardiovasc Interv. 2022 Dec 6:e012183. doi: 10.1161/CIRCINTERVENTIONS.122.012183. Epub ahead of print. PMID: 36472194
Learn more about this publication at Dimensions
Kini V, Parks M, Liu W, Waldo SW, Ho PM, Bradley SM, Hess PL. Patient Symptoms and Stress Testing After Elective Percutaneous Coronary Intervention in the Veterans Affairs Health Care System. JAMA Netw Open. 2022 Jun 1;5(6):e2217704. doi: 10.1001/jamanetworkopen.2022.17704.
PMID: 35727581
Learn more about this publication on Dimensions.
2021
Bradley SM, Kaltenbach LA, Xiang K, Amin AP, Hess PL, Maddox TM, Poulose A, Brilakis ES, Sorajja P, Ho PM, Rao SV. Trends in Use and Outcomes of Same-Day Discharge Following Elective Percutaneous Coronary Intervention. JACC Cardiovasc Interv. 2021 Aug 9;14(15):1655-1666. doi: 10.1016/j.jcin.2021.05.043.
PMID: 34353597.
Hess PL, Gosch KL, Jani SM, Varosy PD, Bradley SM, Maddox TM, Michael Ho P, Virani SS. Use of Oral Anticoagulants in Patients with Valvular Atrial Fibrillation: Findings From the NCDR PINNACLE Registry® Am Heart J. 2021 May 22:S0002-8703(21)00120-4. doi: 10.1016/j.ahj.2021.04.017. Epub ahead of print.
PMID: 34033802.
Kovach CP, Hebbe A, O'Donnell CI, Plomondon ME, Hess PL, Rahman A, Mulukutla S, Waldo SW, Valle JA. Comparison of Patients With Nonobstructive Coronary Artery Disease With Versus Without Myocardial Infarction (From the VA Clinical Assessment Reporting and Tracking [CART] Program). Am J Cardiol. 2021 Feb 1:S0002-9149(21)00086-2. doi: 10.1016/j.amjcard.2021.01.015. Epub ahead of print. PMID: .
PMID: 33539858.
Gu K, Mahtta D, Kaneria A, Sharedalal P, Dennis B, Song Y, Wei X, Khalid U, Hess P, Cho SH, Virani SS. Racial disparities among Asian Americans with atrial fibrillation: An analysis from the NCDR® PINNACLE Registry. Int J Cardiol. 2021 Apr 15;329:209-216. doi: 10.1016/j.ijcard.2020.12.064. Epub 2021 Jan 5.
PMID: 33412180
2020
Kini V, Hess PL, Liu W, Grunwald G, Ho PM, Bradley SM. Association Between Elective Percutaneous Coronary Intervention Appropriateness and Publicly Reported Outcomes. Circ Cardiovasc Qual Outcomes. 2020 Nov 9. doi: 10.1161/CIRCOUTCOMES.120.007421. Epub ahead of print.
PMID: 33161758.
Salahuddin T, Richardson V, McNeal DM, Henderson K, Hess PL, Raghavan S, Saxon DR, Valle JA, Waldo SW, Ho PM, Schwartz GG. Potential unrealized mortality benefit of glucagon-like peptide-1 receptor agonists and sodium-glucose co-transport-2 inhibitors: A report from the Veterans Health Administration Clinical Assessment, Reporting and Tracking program. Diabetes Obes Metab. 2021 Jan;23(1):97-105. doi: 10.1111/dom.14193. Epub 2020 Oct 3.
PMID: 32902128.
Hess PL, Kini V, Liu W, Roldan P, Autruong P, Grunwald GK, O'Donnell C, Doll JA, Ho PM, Bradley SM. Appropriateness of Percutaneous Coronary Interventions in Patients With Stable Coronary Artery Disease in US Department of Veterans Affairs Hospitals From 2013 to 2015. JAMA Netw Open. 2020 Apr 1;3(4):e203144. doi: 10.1001/jamanetworkopen.2020.3144.
PMID: 32315067.
Hess PL, Matlock DD, Al-Khatib SM. Decision-making regarding primary prevention implantable cardioverter-defibrillators among older adults. Clin Cardiol. 2020 Feb;43(2):187-195. doi: 10.1002/clc.23315. Epub 2019 Dec 23.
PMID: 31867773.
2019
Hess PL, Sheng S, Matsouaka R, DeVore AD, Heidenreich PA, Yancy CW, Bhatt DL, Allen LA, Peterson PN, Ho PM, Lewis WR, Hernandez AF, Fonarow GC, Piccini JP. Strict Versus Lenient Versus Poor Rate Control Among Patients With Atrial Fibrillation and Heart Failure (from the Get With The Guidelines - Heart Failure Program). Am J Cardiol. 2020 Mar 15;125(6):894-900. doi: 10.1016/j.amjcard.2019.12.025. Epub 2019 Dec 30.PMID: 31980141
Rymer JA, O'Donnell CI, Plomondon ME, Hess PL, Donahue M, Hebert PL, Shroff A, Swaminathan RV, Waldo SW, Seto AH, Helfrich CD, Rao SV. Same-day discharge among patients undergoing elective PCI: Insights from the VA CART Program. Am Heart J. 2019 Dec;218:75-83. doi: 10.1016/j.ahj.2019.09.003. Epub 2019 Sep 12.
return to top