Attention A T users. To access the menus on this page please perform the following steps. 1. Please switch auto forms mode to off. 2. Hit enter to expand a main menu option (Health, Benefits, etc). 3. To enter and activate the submenu links, hit the down arrow. You will now be able to tab or arrow up or down through the submenu options to access/activate the submenu links.

Seattle-Denver Center of Innovation (COIN)
COIN Investigators & Staff

COIN Investigators
Amneet Sandhu, MD

Title: Assistant Professor of Medicine, University of Colorado
Contact: Amneet.Sandhu2@va.gov
Location: Denver
Research Interests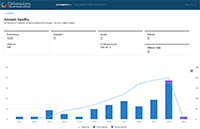 Dr. Sandhu is a Cardiac Electrophysiologist at the Rocky Mountain Regional VA Medical Center and Assistant Professor of Medicine at the University of Colorado. His research interests include access to electrophysiology services within the VA system, decision-making surrounding EP procedures and research surrounding treatment of arrhythmogenesis in complex patients (ie. those with ventricular tachycardia, atrial fibrillation and complex congenital heart disease). He is helping lead development and extension of the Clinical Assessment and Report Tool to EP (CART-EP) procedures, including cardiac implantable devices and catheter ablation procedures, across the VA healthcare system. Dr. Sandhu received his BA in biomedical and electrical engineering from the University of Pennsylvania and medical degree from the Georgetown University School of Medicine. He completed his internal medicine residency at the University of Michigan followed by general cardiology, Masters of Clinical Science and electrophysiology fellowships at the University of Colorado.
See Dr. Sandhu's Dimensions profile that includes: publications, grants, datasets, patents and clinical trials
The following images visualize Dr. Sandhu's work. The word cloud is drawn from publication titles. The research collaboration map shows research relationships (click the image to enlarge):
The following research fields have been used to summarize Dr. Sandhu's publications and grants. The categories are based on 103 publications and 2 grant.

| Publications | Grants |
| --- | --- |
| Cardiovascular | Cardiovascular |
| Clinical Research | Mental Health |
| Heart Disease | Health Services |
| Heart Disease - Coronary Heart Disease | Heart Disease |
| Patient Safety | Behavioral and Social Science |
| Atherosclerosis | Brain Disorders |
| Bioengineering | Clinical Research |
| Health Services | |
| Prevention | |
| Transplantation | |
Grants
Development of a Patient-Centered Approach to ICD Decision-Making
Informed shared-decision making is critical to ensure Veteran-centered, values-concordant care. This is especially important regarding implantable cardioverter-defibrillators (ICDs). These permanent devices require an invasive procedure for the implant with the intent to monitor and treat life-threatening arrhythmias. ICDs present a tricky balance of patient benefit (i.e., treatment of dangerous heart rhythms), procedural risk, long-term maintenance, and impact on psychological health (i.e., PTSD, anxiety, and depression from ICD shocks).
Research shows providers overemphasize ICD benefits while patients overestimate benefits and poorly comprehend risks, psychological effects, and complications.
The central hypothesis of this proposal is that the current ICD decision-making process is heterogeneous and needs a more Veteran perspective. Aligned with the VA Strategic Plan, this work will shift this paradigm to a Veteran-centered, shared-decision making process. Broadly, this project can set the standard for Veteran-centered care with application to other invasive cardiovascular procedures.
Funder: Veterans Affairs
NIH Reporter for complete information
Development of a Patient-Centered Approach to ICD Decision-Making
Aligned with the VA Strategic Plan and Blueprint for Excellence, it is critical to ensure Veteran-centered, values-concordant care through informed, shared decision-making. This is especially important regarding implantable cardioverter-defibrillators (ICDs). These permanent devices require an invasive procedure for the implant with the intent to monitor and treat life-threatening arrhythmias. ICDs present a tricky balance of patient benefit (i.e., treatment of dangerous heart rhythms), procedural risk, long-term maintenance, and impact on psychological health (i.e., PTSD, anxiety, and depression from ICD shocks).
Given high rates of heart failure among Veterans, ICD implantation rates across the VA have risen sharply over the past decade, with over 25,000 ICDs implanted at an average per-procedure cost of $64,500. However, this rise may not be indicative of well-informed, values-concordant care. Numerous prior studies show patients poorly comprehend the risks, benefits, psychological effects, and complications associated with ICD implantation. Patients often have false impressions that ICD is a "cure" for heart failure, requires no maintenance, and does not lead to inappropriate shocks. Prior data also demonstrate that providers overemphasize the benefit of ICDs.
Nationally and within the VHA, this discord has led to a call for decision-support tools to aid patients in making informed, personalized decisions, particularly for invasive therapies with complex risk-benefit tradeoffs such as ICDs. Innovative aspects include: (1) a significantly improved, comprehensive tool to support ICD communications, (2) a designed for routine implementation within VA clinical care, (3) a study of the transition of tools from a non-VA to VA setting, (4) addressing a high-stakes decision (national mandate by CMS for SDM tools) and (5) integration into existing VA quality-improvement infrastructure (CART-EP).
The central hypothesis of this proposal is that current ICD decision-making processes are heterogeneous and need more Veteran perspectives. We will address this through:
Aim 1: Determine Veteran and VA-provider-specific factors surrounding ICD decision-making.
Aim 2: Develop a VA-provider-led tool that meets Veteran needs for routine use within the VA.
Aim 3: Feasibility testing of the newly developed tools designed to support ICD communications.
After this study, the tools will be ready for rapid testing through an IIR project seeking to evaluate this tool, compared to the standard of care, at multiple VA sites. Dr. Sandhu is leading the development of CART-EP, a VA-funded project extending the use of CART (quality system for invasive cardiovascular procedures) to ICDs. We will incorporate this ICD SDM tool as a quality measure into CART-EP before ICD implantation within the VA. CART-EP will serve as a method to study large-scale dissemination and implementation of this tool nationally.
Funder: American Heart Association
Recent Publications
2023
Manning E, Ho M, Sandhu A. Response to Letter to the Editor regarding Factors associated with oral anticoagulant prescription status among patients with a new diagnosis of atrial fibrillation. Clin Cardiol. 2023 Aug 15. doi: 10.1002/clc.24122. Epub ahead of print.
PMID: 37583247.
Learn more about this publication on Dimensions
Manning E, Burns K, Laurie M, Patten L, Ho M, Sandhu A. Factors associated with oral anticoagulant prescription status among patients with a new diagnosis of atrial fibrillation. Clin Cardiol. 2023 Jul 4. doi: 10.1002/clc.24077. Epub ahead of print.
PMID: 37401357.
Learn more about this publication on Dimensions
Barrett CD, Suzuki Y, Hussein S, Garg L, Tumolo A, Sandhu A, West JJ, Zipse M, Aleong R, Varosy P, Tzou WS, Banaei-Kashani F, Rosenberg MA. Evaluation of Quantitative Decision-Making for Rhythm Management of Atrial Fibrillation Using Tabular Q-Learning. J Am Heart Assoc. 2023 Apr 29:e028483. doi: 10.1161/JAHA.122.028483. Epub ahead of print. PMID: 37119087
Learn more about this publication at Dimensions
Sandhu A, Holman B, Lammers S, Cerbin L, Barrett C, Sabzwari R, Garg L, Zipse MM, Tumolo AZ, Aleong RG, Von Alvensleben J, Rosenberg M, West JJ, Varosy P, Nguyen DT, Sauer WH, Tzou WS. Evaluating Temperature Gradients Across the Posterior Left Atrium with Radiofrequency Ablation. J Cardiovasc Electrophysiol. 2023 Jan 22. doi: 10.1111/jce.15826. Epub ahead of print. PMID: 36682068
Learn more about this publication at Dimensions
2022
Sandhu A, Varosy PD, Du C, Aleong RG, Tumolo AZ, West JJ, Tzou WS, Curtis JP, Freeman JV, Friedman DJ, Hess PL. Device-Sizing and Associated Complications With Left Atrial Appendage Occlusion: Findings From the NCDR LAAO Registry. Circ Cardiovasc Interv. 2022 Dec 6:e012183. doi: 10.1161/CIRCINTERVENTIONS.122.012183. Epub ahead of print. PMID: 36472194
Learn more about this publication at Dimensions
von Alvensleben JC, Sandhu A, Chang S, Runciman DM, Wehrmann M, Tzou DW, Schäfer M, Collins KK. High-density electroanatomic mapping with grid catheter in pediatrics and congenital heart disease. J Interv Card Electrophysiol. 2022 Sep 15. doi: 10.1007/s10840-022-01364-0. Epub ahead of print. PMID: 36104612
Learn more about this publication at Dimensions
Griffiths JR, Nussinovitch U, Liang JJ, Sims R, Yoneda ZT, Bernstein HM, Viswanathan MN, Khairy P, Srivatsa UN, Frankel DS, Marciniak FE, Sandhu A, Shoemaker MB, Mohanty S, Burkhardt JD, Natale A, Lakkireddy D, De Groot NMS, Gerstenfeld EP, Moore JP, Avila P, Ernst S, Nguyen DT. Catheter Ablation for Atrial Fibrillation in Adult Congenital Heart Disease: An International Multicenter Registry Study. Circ Arrhythm Electrophysiol. 2022 Sep 8:101161CIRCEP122010954. doi: 10.1161/CIRCEP.122.010954. Epub ahead of print. PMID: 36074954
Learn more about this publication at Dimensions
Sabzwari SRA, Rosenberg MA, Mann J, Cerbin L, Barrett C, Garg L, Aleong RG, Sandhu A, West J, Tumolo AZ, Varosy PD, Sauer WH, Zipse MM, Tzou WS. Limitations of Unipolar Signals in Guiding Successful Outflow Tract Premature Ventricular Contraction Ablation. JACC Clin Electrophysiol. 2022 May 17:S2405-500X(22)00303-6. doi: 10.1016/j.jacep.2022.03.013. Epub ahead of print. PMID: 35643806
Learn more about this publication at Dimensions
Sandhu A, Varosy PD. Left atrial appendage occlusion in patients unable to tolerate anticoagulation is cost-effective in Sweden: but how generalizable is this finding? Eur Heart J. 2022 Feb 8:ehac013. doi: 10.1093/eurheartj/ehac013. Epub ahead of print. PMID: 35137029
Learn more about this publication at Dimensions
2021
Kim RS, Simon S, Powers B, Sandhu A, Sanchez J, Borne RT, Tumolo A, Zipse M, West JJ, Aleong R, Tzou W, Rosenberg MA. Machine Learning Methodologies for Prediction of Rhythm-Control Strategy in Patients Diagnosed With Atrial Fibrillation: Observational, Retrospective, Case-Control Study. JMIR Med Inform. 2021 Dec 6;9(12):e29225. doi: 10.2196/29225. PMID: 34874889
Barrett C, Sandhu A, Tzou W. Electrophysiologic Implications of Transcatheter Aortic Valve Replacement: Incidence, Outcomes, and Current Management Strategies. Curr Cardiol Rep. 2021 Oct 1;23(11):167. doi: 10.1007/s11886-021-01599-9. PMID: 34599417
Varela DL, Rosenberg MA, Borne RT, Sandhu A, Zipse MM, Tzou WS, Sauer WH, Scheinman MM, Nguyen DT. Increased incidence of cavotricuspid isthmus atrial flutter following slow pathway ablation. J Interv Card Electrophysiol. 2021 Sep 17. doi: 10.1007/s10840-021-01065-0. Epub ahead of print. PMID: 34532821
Wallace BC, Jones J, Masoudi FA, Nowels CT, Varosy P, Thomson R, Elwyn G, Brega AG, Vermilye T, Knoepke CE, Sandhu A, Allen LA, Matlock DD. Development and piloting of four decision aids for implantable cardioverter-defibrillators in different media formats. Pacing Clin Electrophysiol. 2021 Sep 16. doi: 10.1111/pace.14365. Epub ahead of print. PMID: 34528271
Kunkel M, Rothstein P, Sauer P, Zipse MM, Sandhu A, Tumolo AZ, Borne RT, Aleong RG, Cleveland JC Jr, Fullerton D, Pal JD, Davies AS, Lane C, Nguyen DT, Sauer WH, Tzou WS. Open surgical ablation of ventricular tachycardia: Utility and feasibility of contemporary mapping and ablation tools. Heart Rhythm O2. 2021 May 11;2(3):271-279. doi: 10.1016/j.hroo.2021.05.004. PMID: ; PMCID: PMC8322924. PMID: 34337578
Sandhu A, Tzou WS. A Disruptive Technology: Determining Need for Permanent Pacing After TAVR. Curr Cardiol Rep. 2021 Apr 16;23(5):53. doi: 10.1007/s11886-021-01481-8. PMID: 33871728
Borne RT, Masoudi FA, Curtis JP, Zipse MM, Sandhu A, Hsu JC, Peterson PN. Use and Outcomes of Dual Chamber or Cardiac Resynchronization Therapy Defibrillators Among Older Patients Requiring Ventricular Pacing in the National Cardiovascular Data Registry Implantable Cardioverter Defibrillator Registry. JAMA Netw Open. 2021 Jan 4;4(1):e2035470. doi: 10.1001/jamanetworkopen.2020.35470. PMID: 33496796
2020
Sandhu A, Matlock D. Stopping Superfluous Shocks With System Solutions. JAMA Intern Med. 2020 Dec 1;180(12):1692-1693. doi: 10.1001/jamainternmed.2020.5430. PMID: 33104164
Sandhu A, Tzou WS, Borne RT, Zipse MM, Nguyen DT, Sauer WH. Uncovering a unique path: Antidromic AVRT utilizing a left anteroseptal Mahaim-like accessory pathway. Pacing Clin Electrophysiol. 2020 Aug 13. doi: 10.1111/pace.14024. Online ahead of print. PMID: 32794265
Biswas M, Sandhu A, Kay JD, Khanna AD, Collins KK, Sauer WH, Nguyen DT. Patients with bicuspid aortic valves may be associated with infra-hisian conduction disease requiring pacemakers. J Interv Card Electrophysiol. 2020 May 26. doi: 10.1007/s10840-020-00785-z. Online ahead of print. PMID: 32458178
Voskoboinik A, Butcher E, Sandhu A, Nguyen DT, Tzou W, Della Rocca DG, Natale A, Zado ES, Marchlinski FE, Aguilar M, Sauer W, Tedrow UB, Gerstenfeld EP. Direct Thrombin Inhibitors as an Alternative to Heparin During Catheter Ablation: A Multicenter Experience. JACC Clin Electrophysiol. 2020 May;6(5):484-490. doi: 10.1016/j.jacep.2019.12.003. Epub 2020 Feb 26. PMID: 32276868
Sandhu A, Nguyen DT. Letter in reply: Forging ahead: Update on radiofrequency ablation technology and techniques. J Cardiovasc Electrophysiol. 2020 May;31(5):1240. doi: 10.1111/jce.14412. Epub 2020 Mar 6. PMID: 32141661
Lee PJ, Varosy P, Sandhu A. Uncommon presentation of a common disorder: Syncope with AVNRT in setting of a structural anomaly. Clin Case Rep. 2020 Jan 31;8(3):477-480. doi: 10.1002/ccr3.2674. PMCID: PMC7069882. PMID: 32185039
Sandhu A, Nguyen DT. Forging ahead: Update on radiofrequency ablation technology and techniques. J Cardiovasc Electrophysiol. 2020 Jan;31(1):360-369. doi: 10.1111/jce.14317. Epub 2019 Dec 18. PMID: 31828880
Maw AM, Thompson LE, Ho PM, Kennedy KF, Maddox TM, Valle JA, Sandhu A, Masoudi FA, Messerli FH, Daugherty SL. Implications of Guideline Updates for the Management of Apparent Treatment Resistant Hypertension in the United States (A NCDR Research to Practice [R2P] Project). Am J Cardiol. 2020 Jan 1;125(1):63-67. doi: 10.1016/j.amjcard.2019.09.033. Epub 2019 Oct 11. PMCID: PMC7232963. PMID: 31727262
return to top