Attention A T users. To access the menus on this page please perform the following steps. 1. Please switch auto forms mode to off. 2. Hit enter to expand a main menu option (Health, Benefits, etc). 3. To enter and activate the submenu links, hit the down arrow. You will now be able to tab or arrow up or down through the submenu options to access/activate the submenu links.

Seattle-Denver Center of Innovation (COIN)
COIN Investigators & Staff

COIN Investigators
Evan Paul Carey, PhD, MS

Title: COIN investigator and lead quantitative efforts for VACE
Assistant Professor, Department of Biostatistics and Informatics
Contact: evan.carey@va.gov
Location: Denver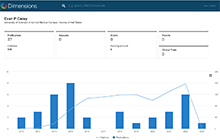 See Dr. Carey's Dimensions profile that includes: publications, grants, datasets, patents and clinical trials
Research Interests

Dr. Carey focuses on evaluating new care initiatives or modalities in the VA, primarily focusing on the quantitative evaluation of the projects. He is the Co-Investigator on several mixed-methods projects. There is no particular clinical focus for these projects; the common theme is VA engagement in process improvement. The VA wants to understand the impact and outcome on Veterans or healthcare systems.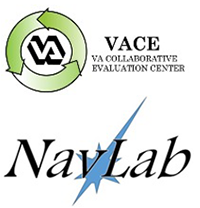 Dr. Carey follows the science and methods to achieve these aims. An approach to achieve this means creating an evaluation plan after the new project has started. His team attempts to determine the impact of the new care model in hospitals or clinics. Since the program is already underway and impacting Veterans or staff, they ask, "What would this target population look like if they never had this intervention?" Understanding and applying methods to this process through instrumental variable analysis lets us know if a new program has the hoped-for results.
Dr. Carey leads the quantitative analytic team for VA Collaborative Evaluation Center (VACE) and is the quantitative director for the University of Colorado Navigation Lab (NavLab). VACE is a highly collaborative VA "virtual center" composed of quantitative, qualitative, and mixed methods evaluation experts. The Navigation Lab's mission is to partner with UCHealth to perform rigorous and timely evaluation, implement and disseminate new knowledge and innovation, and engage relevant stakeholders within a Learning Health Systems (LHS) framework.
An example of this work is the VA's VIONE project. VIONE is a simple, user-friendly medication management methodology used to reduce polypharmacy and improve patient safety, comfort, and medication adherence consistent with high-reliability organizations and initially implemented in 2018-2019 throughout the VA. There are many potential benefits from increasing the Veterans' quality of life and saving the VA money. There are also potential downsides, like removing a medication that the Veteran needs. Dr. Carey's work is to determine if this program has the intended effect. Is it better for Veterans? Does it save money? Is there no unforeseen consequence?

To answer these questions, Dr. Carey and his team developed a mix-method study that works with but is independent of the VIONE project. The study will look at these questions specific to VIONE but can also explore system-wide questions related to health systems in general. Such as, does deprescribing medication have the desired outcome. The mixed-method part of this study is to ask the veterans what they think about the VIONE process. In the experience of the Veteran, is this leading to good outcomes?
A second domain Dr. Carey occupies is lead statistician for research projects. One such project is with Ann O'Hare in our Seattle lab, where she explores community care for Veterans with end-stage renal disease. The research uses a mixed-method study exploring the outcomes of community versus VA-based dialysis services. Community dialysis care was an outgrowth of the Veterans Choice Program that allows Veterans to choose care outside the VA when scheduling a VA appointment takes too long. Are the outcomes favorable to the Veteran? Is the Veteran seen in a timelier manner? Is there a cost-saving for the VA? How do Veterans feel about this change?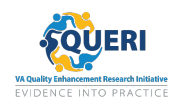 Dr. Carey's future work explores cutting-edge informatics techniques to enable the VA to become a proactive healthcare institution. Healthcare in the US is mainly reactive, especially in specialty care. The provision of services, especially specialty services, depends on a referral from a primary care clinician. Dr. Carey is interested in looking at models that proactively provide care based on what we know about a group and the needs that the population will or should need. He recently received an Implementation Research award from QUERI. to explore this idea related to chronic pain management. The goal of his project is to implement a precision population health dashboard in the context of chronic pain care among Veterans at the VA Eastern Colorado Healthcare System. Dr. Carey is being mentored by Joseph Frank, MD, and Michael Ho, MD.
The following images visualize Dr. Carey's work. The word cloud is drawn from publication titles. The research collaboration map shows research relationships (click the image to enlarge):
The following research fields have been used to summarize Dr. Carey's publications and grants. The categories are based on 37 publications and 5 grants.

| Publications | Grants |
| --- | --- |
| Clinical Research | Health Services |
| Health Services | Clinical Research |
| Cardiovascular | Cardiovascular |
| Heart Disease | Heart Disease |
| Patient Safety | Comparative Effectiveness Research |
| Clinical Trials and Supportive Activities | |
| Mental Health | |
| Behavioral and Social Science | |
| Prevention | |
| Pain Research | |
Recent Publications
Carey E, Chen HP, Baker D, Blankenhorn R, Munro S. Non-Ventilator Associated Hospital Acquired Pneumonia (NV-HAP) Risk Among Hospitalized Veterans Before and During the COVID-19 Pandemic. Am J Infect Control. 2023 Jan 2:S0196-6553(22)00888-4. doi: 10.1016/j.ajic.2022.12.012. Epub ahead of print. PMCID: PMC9807267. PMID: 36603808.
Learn more about this publication on Dimensions
2022
Smilowitz NR, Carey EP, Shah B, Hartigan PM, Plomondon ME, Maron DJ, Maddox TM, Spertus JA, Mancini GBJ, Chaitman BR, Weintraub WS, Sedlis SP, Boden WE; COURAGE Trial Investigators and VA CART CL. Comparison of Characteristics and Outcomes of Veterans With Stable Ischemic Heart Disease Enrolled in the COURAGE Trial Versus the Veterans Affairs Clinical Assessment, Reporting, and Tracking Program. Am J Cardiol. 2022 Jul 30:S0002-9149(22)00699-3. doi: 10.1016/j.amjcard.2022.06.049. Epub ahead of print. PMID: 35918234.
Learn more about this publication on Dimensions
O'Hare AM, Butler CR, Laundry RJ, Showalter W, Todd-Stenberg J, Green P, Hebert PL, Wang V, Taylor JS, Van Eijk M, Matthews KL, Crowley ST, Carey E. Implications of Cross-System Use Among US Veterans With Advanced Kidney Disease in the Era of the MISSION Act: A Qualitative Study of Health Care Records. JAMA Intern Med. 2022 May 16. doi: 10.1001/jamainternmed.2022.1379. Epub ahead of print. PMID: 35576068.
Learn more about this publication on Dimensions
Fortney JC, Carey EP, Rajan S, Rise PJ, Gunzburger EC, Felker BL. A Comparison of Patient-Reported Mental Health Outcomes for the Department of Veterans Affairs' Regional Telehealth and Community Care Programs. Health Serv Res. 2022 Apr 25. doi: 10.1111/1475-6773.13993. Epub ahead of print. PMID: 35467011
Learn more about this publication on Dimensions
Horn CB, O'Malley JF, Carey EP, Culhane JT. Hospital-Acquired Condition Rate of Admitting Facility Does Not Predict Mortality in Traumatically Injured Patients. Cureus. 2022 Apr 7;14(4):e23908. doi: 10.7759/cureus.23908. PMCID: PMC9088883. PMID: 35547464
Learn more about this publication on Dimensions
Carey E, Chen HP, Baker D, Blankenhorn R, Vega RJ, Ho M, Munro S. The Association between Non-Ventilator Associated Hospital Acquired Pneumonia and Patient Outcomes Among U.S. Veterans. Am J Infect Control. 2022 Feb 26:S0196-6553(22)00102-X. doi: 10.1016/j.ajic.2022.02.023. Epub ahead of print. PMID: 35231564.
Learn more about this publication on Dimensions
Seal KH, Bertenthal D, Carey E, Grunfeld C, Bikle DD, Lu CM. Association of Vitamin D Status and COVID-19-Related Hospitalization and Mortality. J Gen Intern Med. 2022 Jan 1:1–9. doi: 10.1007/s11606-021-07170-0. Epub ahead of print. PMCID: PMC8723909. PMID: 34981368.
Learn more about this publication on Dimensions
2021
Munro SC, Baker D, Giuliano KK, Sullivan SC, Haber J, Jones BE, Crist MB, Nelson RE, Carey E, Lounsbury O, Lucatorto M, Miller R, Pauley B, Klompas M. Nonventilator hospital-acquired pneumonia: A call to action. Infect Control Hosp Epidemiol. 2021 Aug;42(8):991-996. doi: 10.1017/ice.2021.239. Epub 2021 Jun 9. PMID: 34103108.
Carey E, Blankenhorn R, Chen P, Munro S. Non-Ventilator Associated Hospital Acquired Pneumonia Incidence and Health Outcomes Among U.S. Veterans from 2016-2020. Am J Infect Control. 2021 Jun 8:S0196-6553(21)00399-0. doi: 10.1016/j.ajic.2021.06.001. Epub ahead of print. PMID: 34116083.
Griffith MF, Chen HP, Bekelman DB, Feemster LC, Spece LJ, Donovan LM, Au DH, Carey EP. Comorbid Anxiety and Depression, Though Underdiagnosed, Are Not Associated with High Rates of Low-Value Care in Patients with Chronic Obstructive Pulmonary Disease. Ann Am Thorac Soc. 2021 Mar;18(3):442-451. doi: 10.1513/AnnalsATS.201912-877OC. PMCID: PMC7919148. PMID: 33306930.
2020
Frank JW, Carey E, Nolan C, Hale A, Nugent S, Krebs EE. Association Between Opioid Dose Reduction Against Patients' Wishes and Change in Pain Severity. J Gen Intern Med. 2020 Dec;35(Suppl 3):910-917. doi: 10.1007/s11606-020-06294-z. Epub 2020 Nov 3. PMCID: PMC7728978. PMID: 33145690.
2019
Donovan LM, Coggeshall SS, Spece LJ, Griffith MF, Palen BN, Parsons EC, Todd-Stenberg JA, Glorioso TJ, Carey EP, Feemster LC, Zeliadt SB, Kirsh S, Au DH. Use of In-Laboratory Sleep Studies in the Veterans Health Administration and Community Care. Am J Respir Crit Care Med. 2019 Sep 15;200(6):779-782. doi: 10.1164/rccm.201902-0313LE. PMCID: PMC7330508. PMID: 31206308.
Frank JW, Carey E, Nolan C, Kerns RD, Sandbrink F, Gallagher R, Ho PM. Increased Nonopioid Chronic Pain Treatment in the Veterans Health Administration, 2010-2016. Pain Med. 2019 May 1;20(5):869-877. doi: 10.1093/pm/pny149. PMID: 30137520.
Media (Video, Podcast, Other)
The Arranged Marriage between Innovation and Research: Lessons Learned from the FLOW3/VACE Partnership
18 May 2020
by Evan Carey, PhD ; Jeffrey Heckman, DO ; Chelsea Leonard, PhD
Description: FLOW3 is a VA developed innovation that leverages VA EMR infrastructure to incorporate and streamline the step-wise process for prosthetic limb care. The purpose of FLOW3 is to 1) improve accuracy, efficiency, consistency, and timeliness of the provision of artificial limbs to Veterans with limb loss, 2) improve data systems that manage and report on artificial limb provision, 3) improve employee satisfaction, and 4) improve the Veteran patient experience. To understand and evaluate implementation and impacts of FLOW3 on prosthetic limb care as it spread enterprise-wide, the FLOW3 operations team partnered with an evaluation team. Our partnership has resulted in a nuanced understanding of how a research-operational partnership can contribute to the use of data in a Learning Healthcare System, including identification of data sources to evaluate various aspects of an operations or clinical initiative and describing a standardized process for using and validating electronic health record data. Further, we have developed insight into the synergy of research-operational partnership; both research and operations are enhanced by understanding perspectives and methods of the other.
Objectives:
-Present experiential learning of the FLOW3 operations team in development and implementation of a novel program at VA.
-Describe impact of incorporating RE-AIM framework for understanding and development of high value data metrics
-Discuss lessons learned from operationalizing a dashboard using VA data and information systems to monitor and facilitate implementation.
DOWNLOAD: PDF handout | Audio only (mp3)
Caring for Veterans reporting Chronic pain: Provider experiences and trends in the prevalence of chronic pain
by Evan Carey, PhD ; Chelsea Leonard, PhD
Seminar date: 4/3/2018
Grants & Funding
VA Diffusion of Excellence: VA Polypharmacy and VIONE Evaluation
Role: PI
Period: 10/01/2021 – 9/30/2023
Funding: $379,516
Description: This mixed methods evaluation will identify the impact of polypharmacy on Veteran outcomes, as well as de-prescribing efforts in the VA and the impact on Veteran outcomes.
Office of Rural Health: Oral Telemedicine Evaluation
Role: Quantitative Methodologist
Period: 10/1/2021 - 9/31/2022
Funding: $208,463.00
Description: The goal of oral telemedicine is to provide all veterans across the nation with expert consultation from board certified specialists in oral pathology, oral medicine, and oral and maxillofacial surgery. This unique service is currently only available at the San Francisco VAHCS due to the scarcity of oral pathology and oral medicine specialists. The Evaluation will explore the implementation of the Oral Telemedicine using the Re-AIM framework and provide barriers and facilitators to enhance the implementation across VHA.
VA QUERI Partnered Evaluation Initiative (PEC 21-128): Evaluating the National Implementation of Virtual Interdisciplinary Pain Care Teams – TelePain
Role: Co-I
Number: I50 HX003430
Period: 4/2021 – 3/2024
Funding: $150,000.00
Description: The proposed evaluation uses a rigorous prospective design to evaluate the impact of virtual interdisciplinary pain management teams (TelePain) on clinical outcomes for veterans, access to care, and costs to VA.
VA HSRD / OCC: Understanding and Overcoming the Digital Divide in Specialty Care Following the onset of COVID-19
Role: PI
Number: OCC-21-06
Period: 1/1/2021 - 9/30/2022
Funding: $379,516.00
Description: The OCC_DigitalDivide project will leverage machine learning modeling to identify segments of the Veteran population who are at an increased risk of losing access to chronic pain care related outpatient care in the context of shifts to virtual care in the COVID-19 era.
Virtual Care QUERI Program: Implementing and Evaluating Technology Facilitated Clinical Interventions to Improve Access to High Quality Specialty Care for Rural Veterans.
Role: Co-I, rapid response team lead
Number: QUE 20-07
Period: 10/1/2020 - 9/30/2025
VA: Community Care for Veterans with Advanced Kidney Disease
Role: Co-I
Number: IIR 18-032
Period: 12/1/2019 - 11/30/2023
Description: The goal of this study is to quantify the impact of contemporary VA community care policy on care and outcomes for Veterans with advanced kidney disease and identify opportunities to improve care coordination.
VA Office of Rural Health: Project Atlas Rural Telehealth National Evaluation & Review (PARTNER)
Role: Quantitative Methodologist
Period: 10/1/2019 - 9/30/2022
Funding: $900,000.00
VA HSR&D: Denver-Seattle Center of Innovation for Veteran-centric and Value driven care
Role: Methodologist
Number: CIN 13-402
Period: 10/1/2013 – 9/30/2023
Description: This is a VA HSR&D Center of Innovation (COIN) funded to conduct outstanding health services research that promotes Veteran-centered and value-driven care, generate and disseminate knowledge that contributes to the well-being of Veterans, partner with VA policy and operational leaders to implement research findings into clinical care, and train the next generation of health services researchers and leaders.
return to top